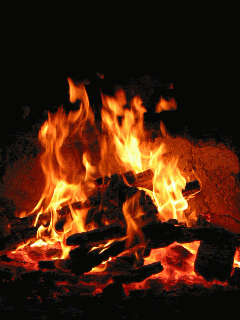 One of my early music memories is singing around a large bonfire at summer camp. I have enjoyed this activity with a few song leaders (some with guitar or mandolin or banjo or drum) throughout my life. As a result, I thought it would be fun at One Broadway Collaborative this week to have an indoor bonfire sing-along and enjoy some snacks, coffee, and camaraderie. This seems like a fun activity all year round, so we will continue this event in future months. I love staring into a fire, mesmerized by the flame, singing in unison with hundreds, or even just a few. Group singing is a great activity in general, but singing also builds a sense of purpose and musical community. 
In addition to the campfire sing-along this weekend, we are going to have an event July 30 at which we will sing Union Songs and some songwriters will perform new union-related songs they have composed. The event will again involve singing along with Nick Noble, of WICN radio in Worcester, singing one of his favorite group sing along songs, "Union Maid." 
Enjoy the July 4 weekend and keep safe!